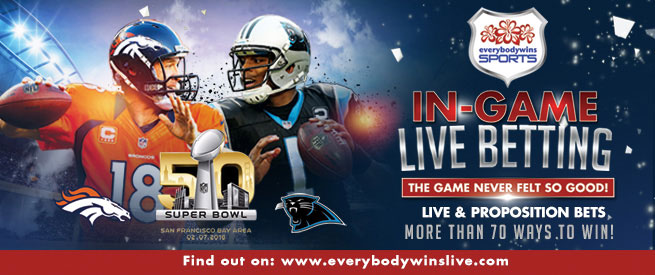 The crown jewel of the American sports calendar, Super Bowl 50, takes place Feb 7, 2016, and EWL Sports offers great odds!
Over 80 odds available on EWL already!
EverybodyWinsLive.com offers near to a hundred different betting opportunities to the most anticipated sports event of the year! This year not only you can bet on an outright winner, point spread or amount of touchdowns and field goals, you also can bet on specific players taking the ball to an end zone during the game, half time or even a quarter.
See instructions on how to bet Pre-Match here
As soon as game starts, we will open our In-Game Betting (Live Betting) section and you will have an opportunity to bet during the game. Watch the game closely and if you see that something might happen, consider laying a bet, because your prediction might turn into a cash!
See instructions on how to bet Live here
Legendary Payton Manning vs hot Cam Newton
Denver Broncos

Carolina Panthers

2.75*

1.40*
Bet Now
Broncos are incredibly stout on defense, but this has been Panthers' season to shine, and bookmakers see Panthers as the odds favorite to win the Super Bowl. Quarterback Cam Newton may be the best player in the NFL right now, and their defense just shut down one of the most prolific offenses in the entire league in the Arizona Cardinals.
However, Payton Manning is considered by many as all-time-best quarterback and he is definitely going to be inducted to the Hall of Fame in future. He has already won a Super Bowl ring in the past and many times finished as runner-up. Can young Cam Newton match up with Manning's experience? We will find out on Sunday!
Some interesting odds
Exact number of touchdowns - There are 11 options offered by EWL, starting from 0 and up to 10 and more. Odds are just great, ranging from 4.50* to unbelievable 81.00*. If you are lucky enough, this might lead to you to a huge payday!

Cam newton to score a touchdown - We've seen him doing that many times, including at the Championship game. Chances are great and odds 1.90* offer great value for such bet.

Safety - We have already seen a safety this off-season. Will it happen again? EWL offers great 10.00* odds on at least one safety during whole game

Team to make first score: Denver - Carolina might be hot right now but if Denver starts game with a return and score first (including field goal), you might double your bet with 2.10* odds

Last team to score: Denver - Denver is mostly considered an underdog and if they lose first half, Carolina will be looking to secure the ball and let the time run out. This gives us good chance of Denver being the last team to score. EWL offers 2.10* odds.
*Odds described on this page are representing the ones being actual on February 2, 2016. Please be aware that odds might change before the event